You're not just a guest when you come to sip and swirl with us; you're family. And family at Trentadue always includes our furry friends. Whether you are joining us for a tasting, or coming to hang out on the lawn for Happy Hour Thursdays with food, fun and live music, we are excited to welcome you.
You can usually catch our own winery pups roaming the grounds too!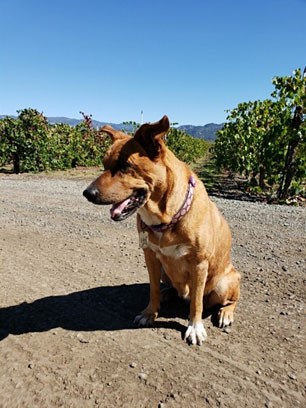 Meet Kaya: Kaya belongs to Victor Trentadue and has been a winery dog for her whole 12 years.  When she's not greeting guests, she's likely out in the vines chasing rabbits (and rocks. We know, it's a quirk).
Fun Fact: Kaya used to be a trouble maker, but a few years (and maybe a few glasses of wine) later, she has mellowed out. 
Kaya's favorite wine: If you're hanging with Kaya after a romp in the vines, she will tell you to woof down a bottle of two of the our La Storia Cuvee 32. Make sure you're on our mailing list so you never miss a release!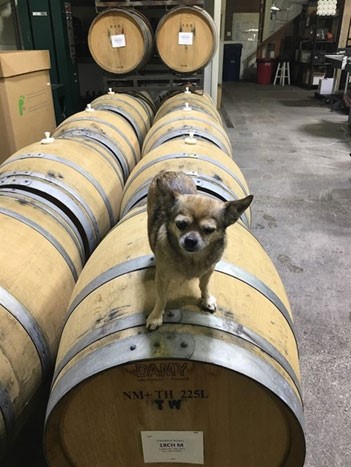 Meet Foxy: She has called Trentadue home for 10 years, after being adopted by Annette Trentadue. She took to winery life in full-stride! When she's not making sure your wine club shipment goes out on time, you can find her taking a snooze in the office between tastings.
Fun fact: Don't let her size fool you, Foxy is fearless when it comes to all things aerial. Birds big and small are the only thing that will get her running and barking. Someone's gotta protect those grapes! 
Foxy's Favorite Wine: Bring out the meatballs and red sauce to enjoy a bottle of Trentadue Sangiovese with Foxy.