We are honored to be named Sonoma County's Best Wedding Venue this month. Over the years, we have raised many a toast to new brides and grooms as they bring their nearest and dearest to celebrate their new life together at Trentadue Winery. It's been an honor, and one that we are excited to continue on for years to come!
Here's what makes us the best place to say "I Do" in all of Sonoma County: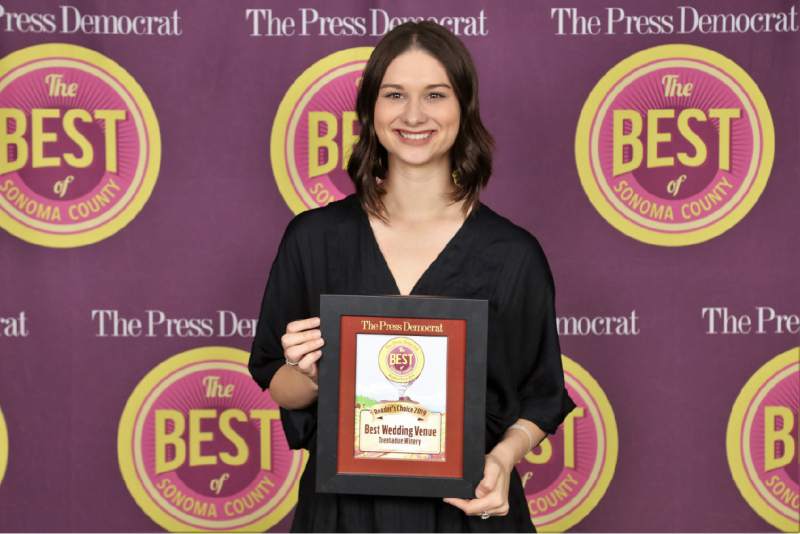 Outdoor and Indoor Options Step into our old-world Italian inspired outdoor settings surrounded by mature Redwood trees and vine arbors. Or, keep it cozy in our Sala de Leon Pavilion with expansive French doors leading out to our vineyard views. The backdrop of mountains and vines wherever you are on our property offers a truly standout setting. Don't forget to bring your wedding photographer out to the vines to capture a few precious moments in the vineyard...wine glass in hand of course!
Exceptional Hospitality As a family-owned winery, hospitality runs through our veins (and our glasses!). Our team is dedicated to making every interaction truly personal. From our planning team to our service staff, you can truly enjoy your event knowing that we are here to take care of you and your guests in true Wine Country hospitality fashion.
An Affordable Luxury Everything about Wine Country has a little feel of luxury to it. We are dedicated to making your event feel luxurious, without having to empty the pockets of your tuxedo to get there. From your first visit to the Estate, you'll find that the natural beauty of our property takes the stage, which means you'll be able to spend less on decorations and florals to spruce things up.
Great Wine! Ok we might be a little biased but what you'll love is not only the quality of our award-winning wines, but we offer wedding parties 15% off Trentadue Wines when you book your weddings with us.
Thank you for making us the Best Wedding Venue in Sonoma County!