We're jumping into an August with a fresh new set of wine food and music for your home Happy Hour experiences! We're kicking off this month's home Happy Hour series with some fun, fresh pairings perfect for those hot late summer afternoons. Keep reading to see what we're sipping on, eating on, and grooving to this week!
First the wine…California Rosé Champagne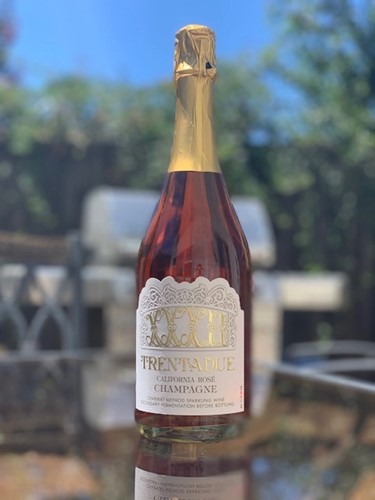 While the universe had different plans for us and we were unable to host our live Happy Hour series this year, we are excited to introduce to you our newest addition to our Happy Hour wine lineup to enjoy at your Happy Hour series at home! Our California Rosé Champagne was added to our wine portfolio here at Trentadue back in December and it has been a hit this summer at our Outdoor Tasting Room. It features a traditional blend of Pinot Noir and Chardonnay grapes (75% and 25% respectively) from the Mendocino and Lodi regions.
Our California Rosé Champagne exhibits impressions of strawberry, rose petals and watermelon with alongside a delicate flavor profile, balanced acidity and a slightly sweet finish. With its relatively low alcohol content, this wine is the perfect choice for an early afternoon weekend "happy hour" on the patio after a long week clocking in hours as an essential worker (thank you for your hard work!), working from home while trying to homeschool the kids, or however else this crazy situation has impacted you.
Want to get stock up on our California Rosé Champagne? Use promo code HAPPYHOUR in our online wine shop every Thursday through the month of August and take advantage of Happy Hour pricing on the California Rosé Champagne, along with some of our other Happy Hour favorites!
Now pop open those bubbles, and let's see what we're eating this week!
Next, the food…Spicy Watermelon & Cucumber Salad
There's nothing more refreshing on a hot summer afternoon than a big bowl of watermelon…except for maybe a plate of sliced cucumbers. What better way to combat that summer heat than with both? This Spicy Watermelon & Cucumber Salad is great for those hot summer evenings. The slightly sweet finish of the California Rosé Champagne balances out the spice in the salad, making this a perfect summer pairing. It's quick, easy, and guaranteed to be your new summer favorite!
And don't worry, it's not too spicy, but if you'd prefer a non-spicy Watermelon & Cucumber salad, just skip the cayenne!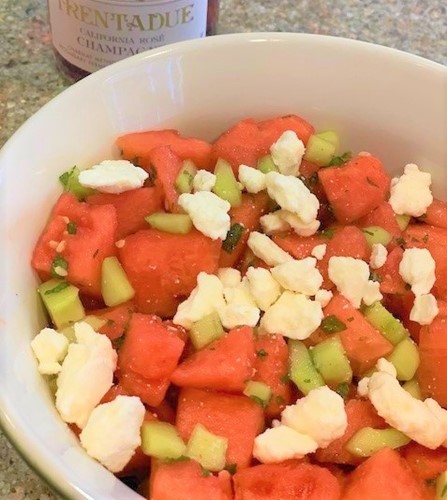 Ingredients
1 small watermelon (roughly 3-4 cups diced or balled)
1 ½ cups diced cucumber
¼ cup fresh mint leaves, chopped
1 tbsp fresh lime juice
2 tbsp olive oil
Salt to taste
¼ tsp cayenne pepper
 Directions
Place watermelon, cucumber and mint into a large bowl.
Whisk together olive oil, lime juice, salt and cayenne pepper in a separate, smaller bowl.
Drizzle over melon mixture and toss to coat, then top off with feta cheese
 As we said, this is a super quick and easy dish to put together. It's great for a Happy Hour snack or a side dish for your summer BBQs!
If you haven't already (although we know you skipped ahead!), it's time to put on some tunes and dance!
The Playlist
We found the freshest, bubbliest songs to dance to this week. You might want to grab a lid for your wine glass, because you're not going to be able to resist busting a move to this playlist (and we'd hate to hear any wine was spilled during the making of this experience)!
Now take a picture for the 'gram and have some fun!
…but seriously, take a picture for the 'gram, or the Facebook, and tag us using #TrentadueHomeHappyHour – we want to see how you're enjoying your very own Happy Hour experience!
Cheers, friends!