We may be gearing up for harvest, but summer's not over yet! This week we're enjoying a Happy Hour staple with one of the Trentadue team's favorite food paired with a playlist that will keep you feeling with those summer vibes. Keep reading to find out more!
First the wine...2019 OPR Sauvignon Blanc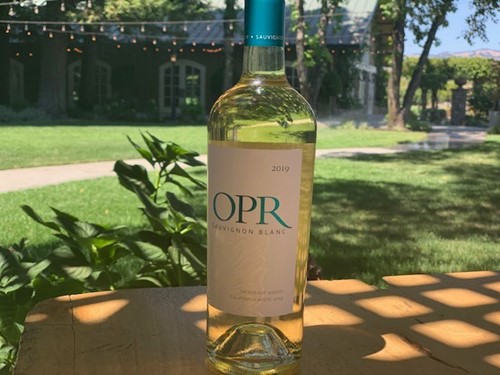 If there's one wine we know we need to stock double of for Happy Hour Thursdays, it's the OPR Sauvignon Blanc. A favorite of our Happy Hour guests and summer wedding clients alike, our OPR Sauvignon Blanc is a summer staple here at Trentadue. The 2019 vintage got a bit of a makeover (yes, another one) and it's never looked, or tasted, better!
The grapes come exclusively from the Cosumnes River region of Lodi and has a refreshing grassy quality. You'll notice citrus and apple fruit in the profile with traces of gooseberry, melon and apricot aromas. Wrap it up with a crisp, clean finish that pairs perfectly with backyards and patios.
Want to get stock up on our 2019 OPR Sauvignon Blanc? Use promo code HAPPYHOUR in our online wine shop every Thursday through the month of August and take advantage of Happy Hour pricing on the 2019 OPR Sauvignon Blanc, along with some of our other Happy Hour favorites!
Go ahead and pour yourself a glass and let's get cooking…sort of 😊
Next, the food…Summer Ceviche
One of Team Trentadue's favorite things to do in the summer outside of the winery is to grab lunch on the patio at Agave Healdsburg. Our favorite? Ceviche of course! So, when it came time to find a pairing for our 2019 OPR Sauvignon Blanc, it was the obvious choice. The best part is, you can prep the fish in advance and then prepare the rest quickly prior to serving. While the recipe is not exactly the same, it is definitely inspired by our local favorite!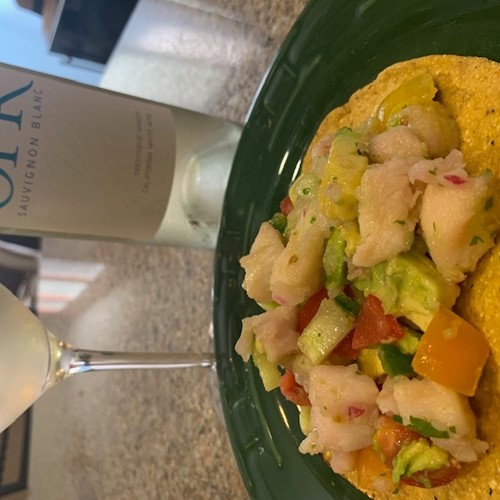 Ingredients
1lb fresh ocean fish filet (we used sea bass) or shrimp, cut into ½ inch dice
1 ½ cup fresh lime juice (about 10-12 limes)
½ large red onion, diced
1 pint heirloom cherry tomatoes (quartered)
1 cup diced cucumbers
1-2 jalapenos, stemmed, seeded and finely chopped
1/3 cup chopped cilantro
1-2 tbsp extra virgin olive oil
Salt to taste
½ tsp sugar
1 large ripe avocado, peeled, pitted and diced
Tostadas or tortilla chips for serving
Directions
In a large bowl, combine fish, lime juice and red onion. Be sure you use enough juice to cover the fish to ensure the fish "cooks" evenly. Cover and refrigerate for about 4 hours. Break open a cube of fish to be sure it is done. Drain in colander.
After the fish is finished "cooking", use a separate large bowl to mix together tomatoes, jalapenos, cilantro, cucumbers and olive oil.
Stir in the fish and onions, then season with salt and sugar.
Gently stir in the diced avocado just prior to serving.
Serve on tostadas or with tortilla chips.
 Now that the work's been done, sit back, relax, and enjoy these sweet summer tunes.
The Playlist
With the epitome of a summer pairing, we needed a playlist that embodied those summer vibes to enjoy with it. You'll dance, you'll relax, but most importantly, you'll feel like summer.
Now take a picture for the 'gram and feel those summer vibes.
…but seriously, take a picture for the 'gram, or the Facebook, and tag us using #TrentadueHomeHappyHour – we want to see how you're enjoying your very own Happy Hour experience!
Cheers until next week!