For this week's Home Happy Hour, we begin to dive into our La Storia collection of reds. Keep reading to see what we're drinking, eating, and dancing to this week!
First, the wine – 2018 La Storia Cuvee 32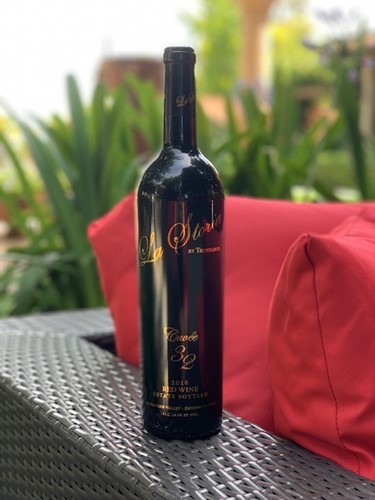 Our La Storia Cuvee 32 is Super Tuscan style blend and is a favorite amongst our staff and club members alike. The blend on the 2018 vintage is primarily Sangiovese and Montepulciano with a little bit of Merlot and exhibits intense aromas of cherry and cassis, which are contributed by the Sangiovese, followed by deeper red fruit aromas of plums, blueberry and a hint of pomegranate.
One of our Wine Club members describes this wine as the "friend you can bring anywhere". It's food friendly, but also is a great all on its own. It has a smooth, velvety mouthfeel that is perfect for those who prefer an easier drinking red, with a bold flavor profile that will be sure to please the lovers of big reds as well. No matter which way you look it, this wine is a real crowd pleaser.
Want to stock up on our 2018 La Storia Cuvee 32? Use promo code HAPPYHOUR in our online wine shop every Thursday through the month of August and take advantage of Happy Hour pricing on the 2018 La Storia Cuvee 32, along with some of our other Happy Hour favorites!
Now pour yourself a glass, and let's get ready to make some food!
Next, the food – Cheesy Taco Lumpia
This is one of our favorite recipes of our Happy Hour series so far, however it does require a little more patience. The best part about making lumpia is that you can always prep in advance and either store in the refrigerator if using in the next day or so, or freeze for later use! This is a recipe the whole household can take part in. Rolling lumpia takes time and practice so the more hands you've got the better!
Ingredients (makes 25-30)
Lumpia
1 lb ground beef or turkey
1 taco seasoning packet

You can always use your own taco seasonings instead, we went with the seasoning packet for ease.

½ medium white onion (diced)
1 ½ cups Mexican cheese
Lumpia wrappers

Menlo brand wrappers are our favorite, but you can always use regular egg roll wrappers if you can't find them in your local market

1 egg white
1 ½ cup canola oil
Taco Ranch Dipping Sauce
2 parts ranch dressing
1 part taco sauce
Directions
Brown ground meat in large skillet then drain fat and incorporate seasoning according to packet instructions.
While meat is cooking, sautee onions in a separate pan.
Once meat and onions are done, combine with cheese and let cool for 5-10 minutes.
While meat is cooling, begin to separate lumpia wrappers (trust us, this will make the wrapping process much easier).
Now it's time to roll! Lay out wrapper in the shape of a diamond (not a square) and set the egg white to the side.

If you begin to have trouble with the next few steps, check out this quick how-to-video for a visual.

Spoon about a tablespoon of the filling towards the bottom half of the wrapper and make sure distribution is even.

Be careful not to use too much or they won't roll properly. A little goes a long way when making lumpia so you'll need a lot less than you think.

Begin to roll from the bottom, then fold in the sides so it looks like an envelope and continue rolling.
Brush egg white on top corner and fold to seal.
Heat about an inch of canola oil in a pan (about 1 ½ cup) and wait until hot.

You can test if it's ready by flicking a bit of water into the pan. If it pops, you're ready to go.

Place rolled lumpia gently in pan crease side down. Cook for about 2 minutes on each side, or until golden brown.
Serve immediately with Taco Ranch dipping sauce and a glass of 2018 La Storia Cuvee 32.
We know you skipped ahead and that you've been listening to this week's playlist while putting together the lumpia already, but it's a good one so let's play it again!
The Playlist
This week's playlist features some of our classic favorites that are just as smooth as the wine and food we're enjoying with it.
Now take a picture for the 'gram (or the Facebook) and tag us using #TrentadueHomeHappyHour – we want to see how you're enjoying your very own Happy Hour experience!
Cheers until next week!