We're back with another edition of our Happy Hour at Home series! While we are continuing to receive news and updates regarding the current situation, we're sure you're glad to know that we've got good wine, food and music for you to look forward to each week! See below for our recommendations for this week's Happy Hour at Home! 
Start with the wine – 2018 La Storia Chardonnay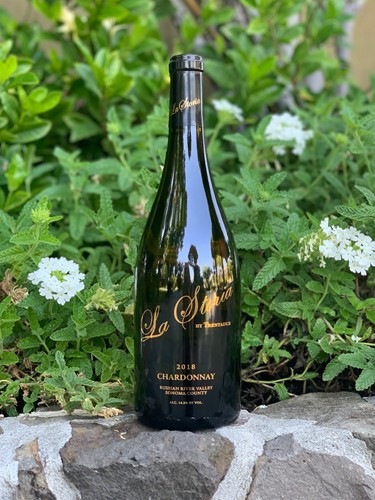 This week's Happy Hour pairings are all about our award-winning 2018 La Storia Chardonnay. We don't like to brag, but we're pretty proud. Who wouldn't be with theses accolades?
2019 CA State Fair Competition – Gold Medal, 95 points
Wine Enthusiast – 90 points
2020 SF Chronicle – Gold Medal
2020 Sunset International Wine Competition – Gold Medal, 91 points
Our 2018 La Storia Chardonnay is one of the few white wines in our portfolio and is one of the only wines we make in which the grapes come from outside the Alexander Valley. The grapes are sourced from two vineyards in the Russian River Valley, the premiere growing region for Chardonnay here in Sonoma County, one vineyard an established, old vine vineyard, with very small berries that provide a great combination of aromas and flavors, the other a young but promising block full of enthusiasm. This Chardonnay is well-balanced and will suit the preferences of all types of Chardonnay lovers. The partial malolactic fermentation gives this wine a nice, creamy mouthfeel without being too butter, and the aromas of tropical fruits, ripe apples, peaches and apricots allow for a refreshing finish. Perfect with food or enjoying on the patio after a long day!
Need to stock up? Order on Thursdays using promo code HAPPYHOUR to receive Happy Hour savings on select wines, including our 2018 La Storia Chardonnay. Get yours here!
Next, the food – Scallop Pasta with Garlic & La Storia Chardonnay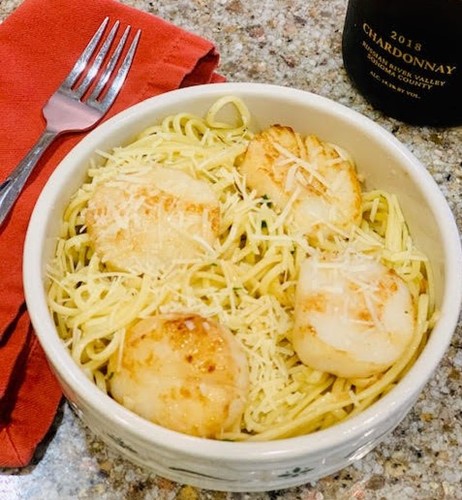 Typically, when we look to pair food with Chardonnay, we automatically think of chicken. Here at Trentadue, we like to think outside of the box and love to pair our 2018 La Storia Chardonnay with a nice scallop pasta (we even use the wine to cook it!). Scallops can seem daunting if you've never made them before, however they're actually super easy! This simple, quick recipe will take your home Happy Hour experience to the next level.
Ingredients (serves 2):
8 oz pasta (we prefer linguine or bucatini)
2 cloves garlic 
2 tbsp butter
1 tbsp olive oil
Salt & Pepper
½ lb sea scallops
¼ cup 2018 La Storia Chardonnay
1 tbsp parsley
Shredded Parmesan cheese (optional for topping) 
Directions
Cook the pasta according to packet instructions in a large pot of boiling water

Tip – add salt and a touch of olive oil to the pasta while cooking to add flavor and to prevent the pasta from sticking together

While you are waiting for the water to boil, finely chop the garlic and parsley.
Next, prep the scallops. Slice thicker scallops in half then pat scallops dry with a paper towel. Season with salt & pepper to taste.
Once you add the pasta to the water, heat the butter and oil in a skillet/frying pan over medium heat and add the scallops. Make sure the pan you are using is large enough to fit all of the scallops to avoid having to cook them in batches.
When you begin to see the scallops cooking around the side (usually after a couple of minutes) flip them to cook on the other side. They should have a light sear at this point.
Add the garlic and cook an additional minute to soften.
Remove the scallops from pan and set aside.
Add wine to deglaze the pan – scrape away any browning from the bottom. Let cook for about a minute then add parsley and remove from heat.
Add the cooked, drained pasta to the pan and toss together.
Return scallops to pasta mixture, top with Parmesan cheese (if desired), and enjoy!
Last but not least…the music!
Finally, it wouldn't be a true Trentadue Happy Hour experience without music! We've put together a playlist that perfectly complements the wine and food pairings for your Home Happy Hour this week. Our favorite way to kick off our home Happy Hours each week is by putting on the playlist, pouring a glass of wine, and getting the dance party started in the kitchen while we're putting the recipe together. 
How are you enjoying your home Happy Hour? Show us by tagging us in your photos and videos using #TrentadueDanceParty – we can't wait to see those dance moves!
Stay tuned for more Happy Hour pairings next week. Until then, keep on dancing! Cheers!