We're back again with our home Happy Hour recommendations so you can enjoy great wine, food and music from the safety and comfort of your own home! Keep reading to find out what we're drinking, eating, and listening to this week. 
Start with the wine - 2017 Trentadue Estate Victorian House Zinfandel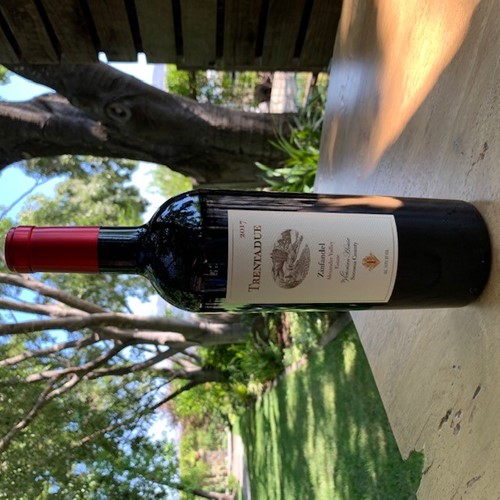 The 2017 vintage of our Trentadue Estate collection of wines was the first vintage of our new vision for the Trentadue line of wines. The grapes used in this wine are exclusively sourced from our estate vineyards, including the old vine block located next to the old Victorian House across the street, hence the name of the wine. The Zinfandel grapes are blended with a small amount of Petite Sirah, Montepulciano, and Syrah to round out the flavor profile and to give the wine a nice, deep color. This wine is bright and lively with aromas of dark cherry, blueberry and plums with a solid mouthfeel and elegant soft tannins on the finish.
With less than 270 cases made, this wine won't be around much longer. Take advantage of our Happy Hour pricing each Thursday in July using promo code HAPPYHOUR and stock up while you still can! Order here
This is the perfect red wine for summer BBQs and evenings hanging out on the patio. See what we're eating with the Victorian House Zinfandel below!
Next, the food - Sweet & Spicy Cocktail Meatballs
We love to pair our 2017 Victorian House Zinfandel with all things barbeque, whether it be Victor's famous tri-tip or grilled barbeque chicken, but for those days when it's just too hot to stand over the grill, cocktail meatballs are a great choice! These are simple, quick, and a guaranteed crowd pleaser. Don't let the crazy ingredients fool you, these meatballs are delish.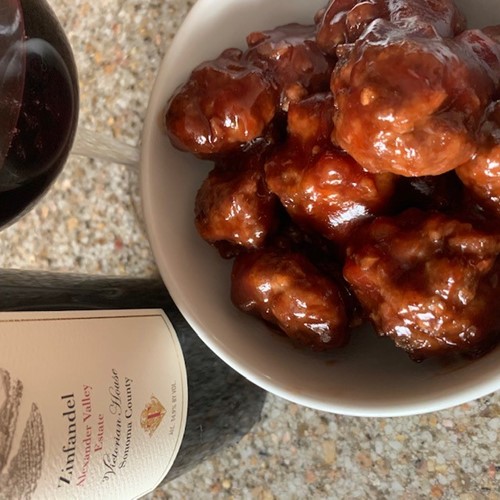 Ingredients (makes about 24 meatballs)
Meatballs*
1 lb lean ground beef
½ cup plain bread crumbs
½ cup milk
¼ small yellow onion (finely diced)
1 large egg (whisked)
1 tsp garlic powder
Sauce
1 cups ketchup
½ cup Concord grape jelly
½ tsp cayenne pepper (optional)
*to save time you can always use 1lb of your favorite frozen meatballs, cooking according to package instructions
Directions
Preheat oven to 350 degrees F.
Combine milk and breadcrumbs first and set aside.
Mix together ground beef and egg, then add the rest of the meatball ingredients saving the milk and breadcrumb mixture for last, until just combined. Mixing by hand works best to avoid overworking the meat.
Once mixed, form into meatballs about 1" in diameter. We think mixing by hand works best. Place on a greased aluminum foil lined baking pan and bake for 18-20 minutes.

Pro Tip – if mixing and forming with your hands, grab a straw for your wine 😊

In a small saucepan, combine sauce ingredients together and cook over medium-low heat. Whisk until jelly melts then bring to a boil for about a minute.
Transfer cooked meatballs to medium sized pan, add sauce, and simmer on low for another 10-15 minutes.
Serve alongside your favorite cheeses, fruits and crackers for a full Happy Hour spread, or make it a meal by putting them over rice! Now, we know you've already skipped ahead and have been listening while you prepared the meatballs, but in case you haven't...
And finally...The Playlist
When enjoying wine and food with a little spice, you've got to have a zesty playlist! We can't wait to see what dance moves you all come up with this week. Be sure to tag us in your photos and videos using #TrentadueDanceParty and show us what you've got! Who knows? There may just be a virtual dance off!
 Until next week…cheers!