They say all good things come to an end…but luckily with our Happy Hour at home recommendations, Happy Hour only ends when you say it does! We've got some exciting pairings this week and we can't wait to share them with you! Keep reading and see what how we're celebrating our last home Happy hour for July!
(…and don't worry, we'll be back next month for with all new wine, food and music pairings so your weekly Happy Hours at home can keep on going!)
First…the wine – 2017 Trentadue Estate Scott Henry Merlot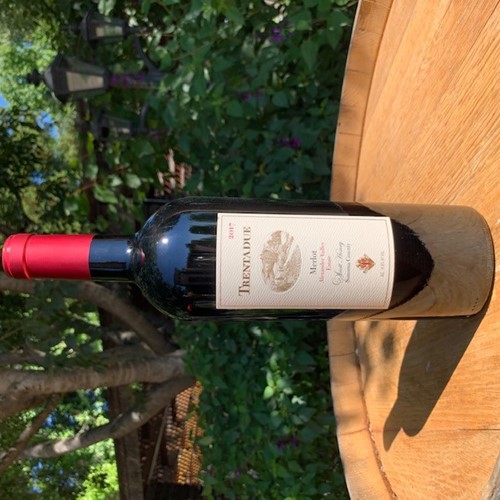 Like our Victorian House Zinfandel featured last week, our 2017 Scott Henry Merlot was part of the inaugural vintage of the new vision of our Trentadue Estate collection of wines. Merlot has had a rough couple of years, particularly after a certain movie was released, and has quickly become the underdog of wine varietals. Well, those folks are missing out. Our 2017 Scott Henry Merlot is bold and robust with aromas and flavors of dark cherry, plums and a bit of black licorice and herbs. Love Cab? This is the Merlot for you.
Ready to love Merlot again? This Thursday (July 30th) is your last chance to take advantage of Happy Hour savings on our featured wines using promo code HAPPYHOUR, so don't miss out! Get yours here!
Then the food – Flourless Chocolate Cake
What better way to wrap up our July Happy Hour series that with dessert? Wine and chocolate are a timeless favorite, so we've found the perfect recipe to enjoy with our 2017 Scott Henry Merlot! The best part, it's gluten free! We'll preface by saying that this recipe takes a bit more time and prep work than our previous pairings, mostly for cooling and letting the ganache set, but trust us…it's worth it.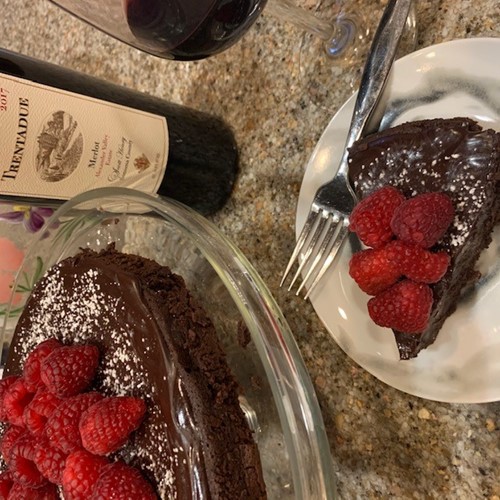 Flourless Chocolate Cake
Recipe inspired by Two Peas In Their Pod
Ingredients
Cake
1 cup semisweet chocolate chips
½ cup unsalted butter
¾ cup granulated sugar
¼ teaspoon salt
1 teaspoon vanilla extract
3 large eggs, slightly beaten
½ cup cocoa powder
Chocolate Ganache
1 cup semisweet chocolate chips
½ cup heavy cream
 Garnish (optional)
Raspberries
Powdered sugar
 Directions
Preheat oven to 375 degrees F. Grease an 8 inch round cake pan with non-stick cooking spray then line with parchment paper (cut parchment paper as needed to fit). Spray parchment paper with cooking spray and set aside.
Start with the cake ingredients first. Put the chocolate and butter in a microwave-safe bowl and heat until the butter has melted and the chocolate chips have softened (should take about a minute). Stir until the chocolate is completely melted and the mixture is smooth.

If you took the mixture out too early and need to reheat, do so in 10 second increments and stir in between.

Add sugar, salt and vanilla extract. Stir to combine.
Slightly beat the eggs then add to the mixture and stir until smooth. Add the cocoa powder and stir until just combined. Be careful not to over mix.

Tip - Stir the cocoa powder gently at first – it has the tendency to want to poof out of the bowl

Pour batter into the pan and bake for 25 minutes. Cake should have a thin crust on top and center should register 200 degrees F. If not, allow to bake until it does.
Allow cake to cool on a wire rack for about 10 minutes.
Once cool, loosen the edges of the pan with a butter knife and carefully turn upside down onto a serving plate so the bottom of the cake is now the top of the cake and let cool completely.
While this is happening, begin to make the chocolate ganache. Combine chocolate and cream in a microwave safe bowl and heat until cream is hot so it will melt the chocolate.

Begin with 30 seconds and add time as needed, checking frequently.

Remove from microwave and stir until chocolate melts and mixture is smooth
Spread chocolate ganache evenly over the cooled cake. Let sit for a few hours before cutting.

You can place in the fridge to speed up the process.

Cut and top with dusting of powdered sugar and raspberries, and serve with a glass of Trentadue Estate Scott Henry Merlot
And finally, the playlist
This week's wine is bold and robust and our playlist definitely reflects this. These songs are made to be played loud and will definitely get your feet stomping!
Show us your dance moves by tagging us in your posts using #TrentadueDanceParty!