As summer is coming to an end, so is our 2020 (virtual) Happy Hour Series. This summer has been one that has kept us on our toes, with constantly changing regulation and information and wrapping up with the current events we are experiencing here in Sonoma County with the recent fires, needless to say we're ready for a bit of a break. This week's wine, food and music pairings are all about taking it easy. Keep reading to see what we're enjoying this week as we unwind from this crazy summer season!
First, the wine ...2017 La Storia Merlot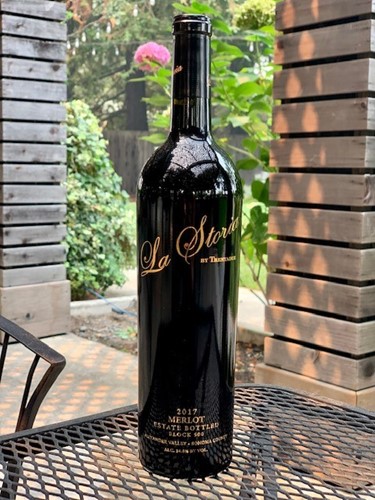 Now, we can already hear the "I'm not a Merlot person" comments coming through the airwaves, but don't sell yourself short! Whenever we have guests visit our Alexander Valley Tasting Room who claim they don't like Merlot, we love to line this up in a blind tasting. The results? They love it.
The main aromas and flavors are of dark cherry, plums and a bit of black licorice and herbs with a touch of vanilla, brown sugar, cocoa dust and toast. It has a soft and viscous mouth feel with well-balanced acidity and tannins. In addition to the many reasons we love this wine, it also took home Double Gold at the 2020 San Francisco International Wine Competition. It's incredibly fruit forward and is guaranteed to be a hit. 
Don't wait to stock up – this is the last week to take advantage of our Happy Hour savings! Use promo code HAPPYHOUR at checkout in our online store to receive Happy Hour pricing on our 2017 La Storia Merlot in addition to other Happy Hour favorites!
And now let's take a look at the food…
Next, the food…Slow Cooker Texas Pulled Pork Sliders
After a long summer (and let's be honest, a long year so far), we found it fitting to let our slow-cookers do the work for us for our last recipe of our Happy Hour series.  This recipe was inspired by the folks at AllRecipes.com. While we love coming up with our own recipes to feature in our posts and pairings, this one was too good to pass up!
This recipe is super quick to put together, but can take all day to cook, so it's perfect for throwing in the slow-cooker before you go to work and it will be ready in perfect time for your after-work Home Happy Hour.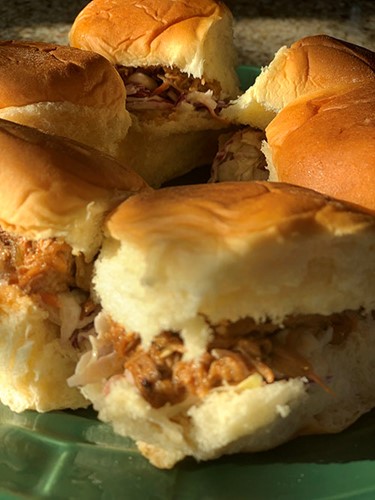 Ingredients
1 tsp vegetable oil
4 lbs pork shoulder roast
1 cup barbeque sauce
½ cup apple cider vinegar
½ cup chicken broth
¼ cup light brown sugar
1 tbsp yellow mustard
1 tbsp Worcestershire sauce
1 tbsp chili powder
1 extra large onion, chopped
2 large cloves garlic, crushed
1 ½ tsp dried thyme
18 Hawaiian Sweet Rolls
Coleslaw and pickles for garnish (optional)
Directions
Pour vegetable oil in bottom of slow cooker and distribute evenly then place pork roast into the slow cooker.
In a small bowl, combine barbeque sauce, apple cider vinegar and chicken broth then pour over roast.
Stir in brown sugar, mustard, Worsteshire sauce, chili powder, onion, garlic and thyme. Use spoon to pour some of the sauce from the bottom of the slow cooker onto the roast.
Cover and cook on low for 10-12 hours, or until roast is easily shredded with a fork.

If you're in a hurry, you can also cook on high for 5-6 hours.

Remove roast from slow cooker and shred the meat, then return to the slow cooker and combine with the juices.
Serve onto Hawaiian sweet rolls and top with coleslaw and pickles as desired.
You've got the wine and you've got the food, now all that's missing is the music! Check out what we're listening to this week below…
The Playlist
This week's playlist is just as easy going and laid back as our wine and food this week.
Now take a picture for the 'gram and relax. You deserve it.
…but seriously, take a picture for the 'gram, or the Facebook, and tag us using #TrentadueHomeHappyHour – we want to see how you're enjoying your very own Happy Hour experience!
We've really enjoyed being able to provide you with your own little slice of Happy Hour this summer, and we cannot wait to host you again in person for the 2021 season.
Until next year, our friends!